Gun & Foam Cleaner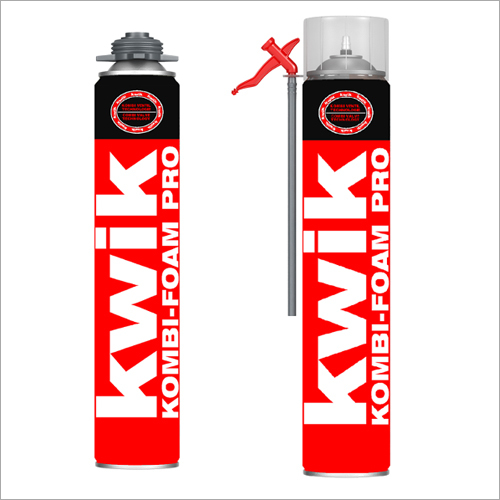 Gun & Foam Cleaner
Price And Quantity
Product Specifications
Polyurethane Foam For Filling Gaps

It is broadly used in various different industries for different purpose
Product Description
DESCRIPTION:


KWIK KOMBI-FOAM PRO is a Polyurethane foam for construction industry is widely used. Single component pressurized containers are available for ease of applications at jobsites. One-component, self-expanding, ready to use polyurethane foam. CFC-free & HCFC-free propellants, which are completely harmless to the ozone layer. Cures by absorbing water vapour from the air. The foam is classified by its fire resistance class (as per DIN 4102-1) B3. Polyurethane foam is specialized in construction and its applications are manifold. The B3 grade foams are best suited for filling gaps without any need of fire resistance.
Air Tight Valve : Can be used with gun for large applications / with straw nozzle for limited usage.
High Yield : 750ml can yields upto 40 Litres volume when freely foamed.
Higher Density: Denser foam for better durability & strength.
Availability: Available in 750ml Hand Held Straw Grade & Gun Grade.
FEATURES:
High Yield upto 40 litres
Designed for filling and insulation
Precise dispensing and volumetric control
Excellent adhesion on most substrates
High thermal and acoustical insulation
Excellent mounting capacities
Excellent stability (no shrink or post expansion)
APPLICATIONS:
Installation of Door & Window frames
Filling of cavities like service ducts
Sealing of all openings in roof constructions
Creation of a soundproof screen
Filling of penetrations in walls
Connecting of insulation materials and roof constructions
Improving thermal insulation in cooling systems
Insulating electrical outlets and water pipes
For bonding expanded polystyrene boards (EPS) on facade installations
For bonding extruded polystyrene (XPS) on building foundations
For bonding expanded polystyrene insulation
For bonding and insulation of wall panels, corrugated sheets, roof tiles, etc.
Suitable for fixing styrofoam boards in thermal insulation of buildings in the systems ETICS with mechanical fixings
Filling gaps in the thermal insulation of buildings
For fixing various types of insulation boards
ADVANTAGES:
Connecting of insulation materials and roof constructions
Improving thermal insulation in cooling system
Insulating electrical outlets and water pipes
Resistant to mould and fungi.