Polyester Chemical Anchor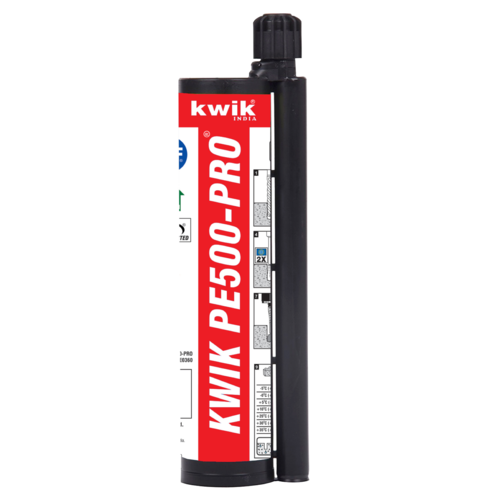 Polyester Chemical Anchor
Price And Quantity
Product Specifications
It is broadly used in various different industries for different purpose

KWIK PE500-PRO
Product Description
KWIK PE500-PRO is a chemical based formula which is broadly used in construction industry. It feature high bond strength to concrete failure which makes it is perfect to be used for smooth climatic conditions. Commonly used in rotary hammer drilled and diamond core drilled holes, this product can be easily used on all types of base materials. Offered KWIK PE500-PROr is suitable to be utilized for high load applications which results in stronger bond than the base material itself.
Payment terms - Online payment accepted.
DESCRIPTION:
KWIK PE500-PRO is a Polyester based chemical anchor is designed especially for the Construction Industry. Few applications of KWIK PE500-PRO including anchoring of threaded rods, reinforcing bars or internal threaded rod sleeves into concrete (normal, porous & light) as well as solid masonry. KWIK PE500-PRO being Polyester based resin mortar is used in hammer drilled holes and are suitable for high loads. The system is based on adhesion principle. The resulting bond is stronger to the base material, no additional load stress is imparted to the base material in comparison with expansion type anchors and are therefore ideal for close to edge fixing, reduced centre, group anchoring. Installation Temperature of KWIK PE500-PRO from -5C and a service Temperature up to 72C. KWIK PE500-PRO has high chemical resistance and is suitable for applications in extreme ambiences e.g. in swimming pools (chlorine) or closeness to the sea (salt). The product is supported with several international approvals which prove its capability in nearly every application.
ETA CE Certified Option 7 : Can be used in Un-Cracked Concrete
Hard Plastic Body : Protects from transportation damages & material handling
Sizes Available: 360ml Cartridge
Air Tight Cap: Stop-n-go applications for repeated use.
FEATURES:
Fixing close to free edges
Suitable for dry, wet & flooded holes
Extended gel time
Polyester Based Chemical
Styrene free
Cost effective
ETA Option 7 Certification
APPLICATIONS:
Canopies
Ventilation Systems
Railings
Hand rails
Masonry supports
Signs
Safety barriers
Balcony fences
Racking
Dry holes
ADVANTAGES:
High loads & safe Chemical Anchoring
Reliable fixing in Un-Cracked concrete
Excellent Bonding & low Shrinkage
Installation comfort at elevated temperatures
Low odour, High chemical resistance
Economical chemical
BASE MATERIALS:
Concrete
Cracked Concrete
Solid Brick
Light Weight Honeycomb Brick
Hollow Dense Aggregate Brick
Hollow Light Aggregate Brick
Solid Stone
Aerated concrete