Vinylester Chemical Anchor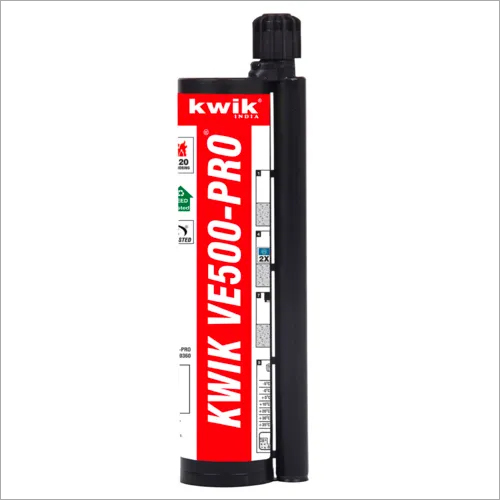 Vinylester Chemical Anchor
Price And Quantity
Product Specifications
Industrial

KWIK VE500-PRO
Product Description
Vinylester Resin based Chemical Anchor
DESCRIPTION:
KWIK VE500-PRO is a Vinylester based chemical anchor is designed especially for the Construction Industry. Few applications of KWIK VE500-PRO including anchoring of threaded rods, reinforcing bars or internal threaded rod sleeves into concrete (normal, porous & light) as well as solid masonry. KWIK VE500-PRO being Vinylester based resin mortar is used in hammer drilled holes and are suitable for extreme loads. The system is based on adhesion principle. The resulting bond is stronger to the base material, no additional load stress is imparted to the base material in comparison with expansion type anchors and are therefore ideal for close to edge fixing, reduced centre, group anchoring. Installation Temperature of KWIK VE500-PRO from -5C and a service Temperature up to 72C. KWIK VE500-PRO has high chemical resistance and is suitable for applications in extreme ambiences e.g. in swimming pools (chlorine) or closeness to the sea (salt). The product is supported with several international approvals which prove its capability in nearly every application.

ETA CE Certified Option 1 Can be used in Cracked & Un-Cracked Concrete
Hard Plastic Body : Protects from transportation damages & material handling

Sizes Available : 360ml Cartridge
Air Tight Cap : Stop-n-go applications for repeated use.

FEATURES:
Fast Setting & Curing
Heavy Duty Vinylester Chemical Anchor
Vinylester Based Chemical
Suitability All Base Materials
Styrene free Chemical
Thixotropic
ETA Option 1 Certification
APPLICATIONS:
Rebar Fixings
Steel & Wooden Structural Beams & Columns
Cantilevers, Pipe Supports
Pumps, Machines
Guard rails, Gates
Heavy duty ladders
Mechanical Equipments
Heavy Duty Fixings
Percussion / Rotary Hammer drilled holes
Dry / Moist holes
ADVANTAGES:
Suitable for winter, cold application
High loads & safe Chemical Anchoring
Excellent Bonding & Low Shrinkage
Wide range of construction Base Materials
Low odour, Low emissions
Resists to most industrial Chemicals
BASE MATERIALS:
Concrete
Cracked Concrete
Solid Brick
Light Weight Honeycomb Brick
Hollow Dense Aggregate Brick
Hollow Light Aggregate Brick
Solid Stone
Aerated concrete